Last week we celebrated an incredible milestone in the history of Abbey Road Studios. 50 years ago, Lester Smith joined EMI and became an integral part of the Abbey Road Story.
From Paul McCartney and Roy Orbison to Alexander Desplat and John Williams, over his 48 years working within the studio, Lester has befriended a huge number of iconic artists and, as many will agree, has become a legend in his own right.
Since the early 70's he has been the custodian of Abbey Road's microphone collection, the largest collection of its kind in the world, and his knowledge and warmth have become an essential part of the Abbey Road experience to staff and artists alike.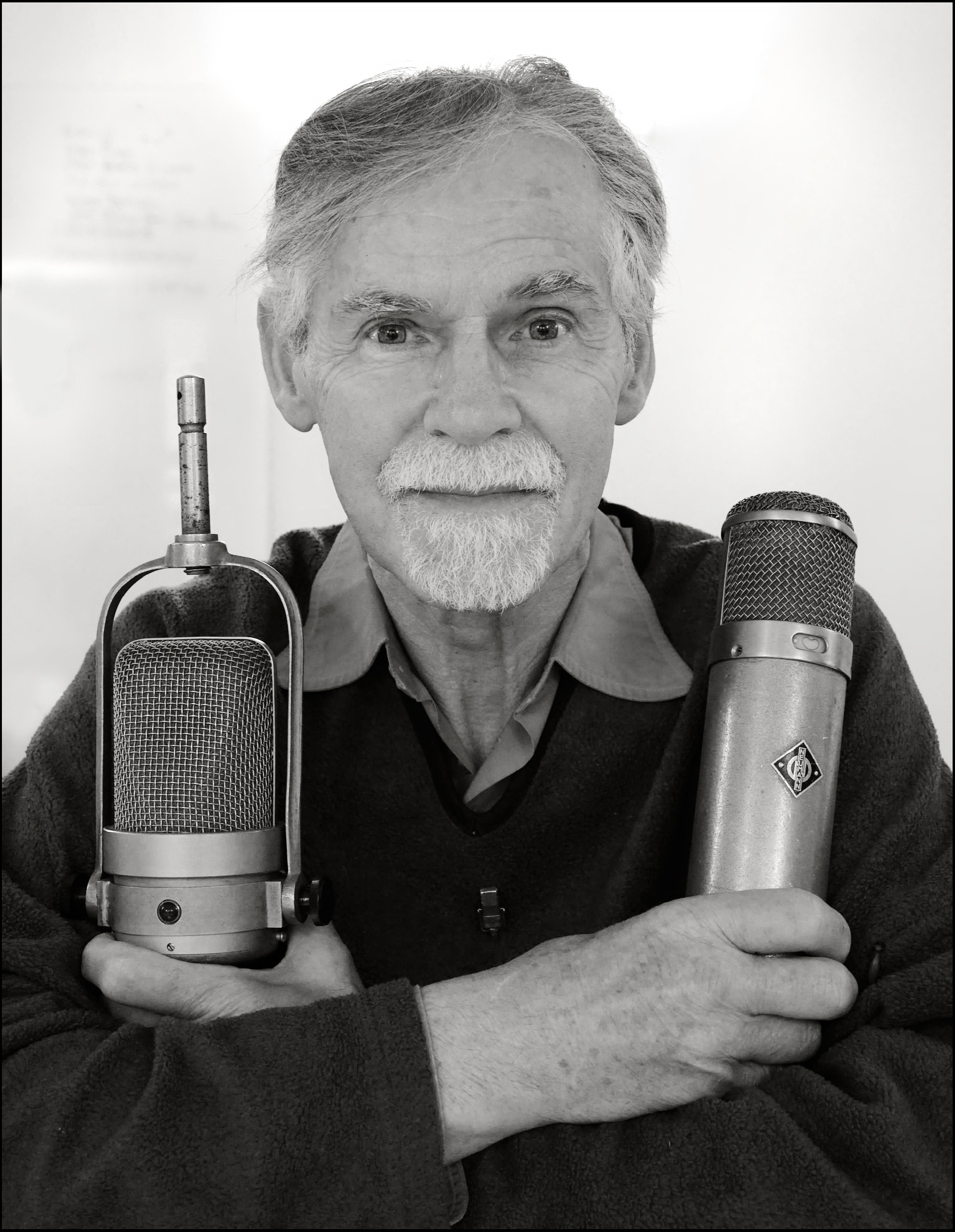 Lester Smith, as photographed by Jill Furmanovsky.
In his own words, Lester told us his story - how he came to work at Abbey Road, and what was so special about the job that he simply couldn't leave.
"After I left school, in Worthing, I joined the G.P.O. (General Post Office) for an apprenticeship in telecommunications. During that time, I developed an interest in electronics and in particular, tape recorders. My first was a second hand 4 track, quarter inch EMI affair which was an amazing machine.
It made such an impression on me that when my Mother told me that EMI was looking for a technical engineer to work in the Tape Record division at Hayes, Middlesex. I immediately applied for the job and got it. After several years there, my boss, Freddie Brook s told me that a certain Len Page at the Abbey Road Studios required an assistant.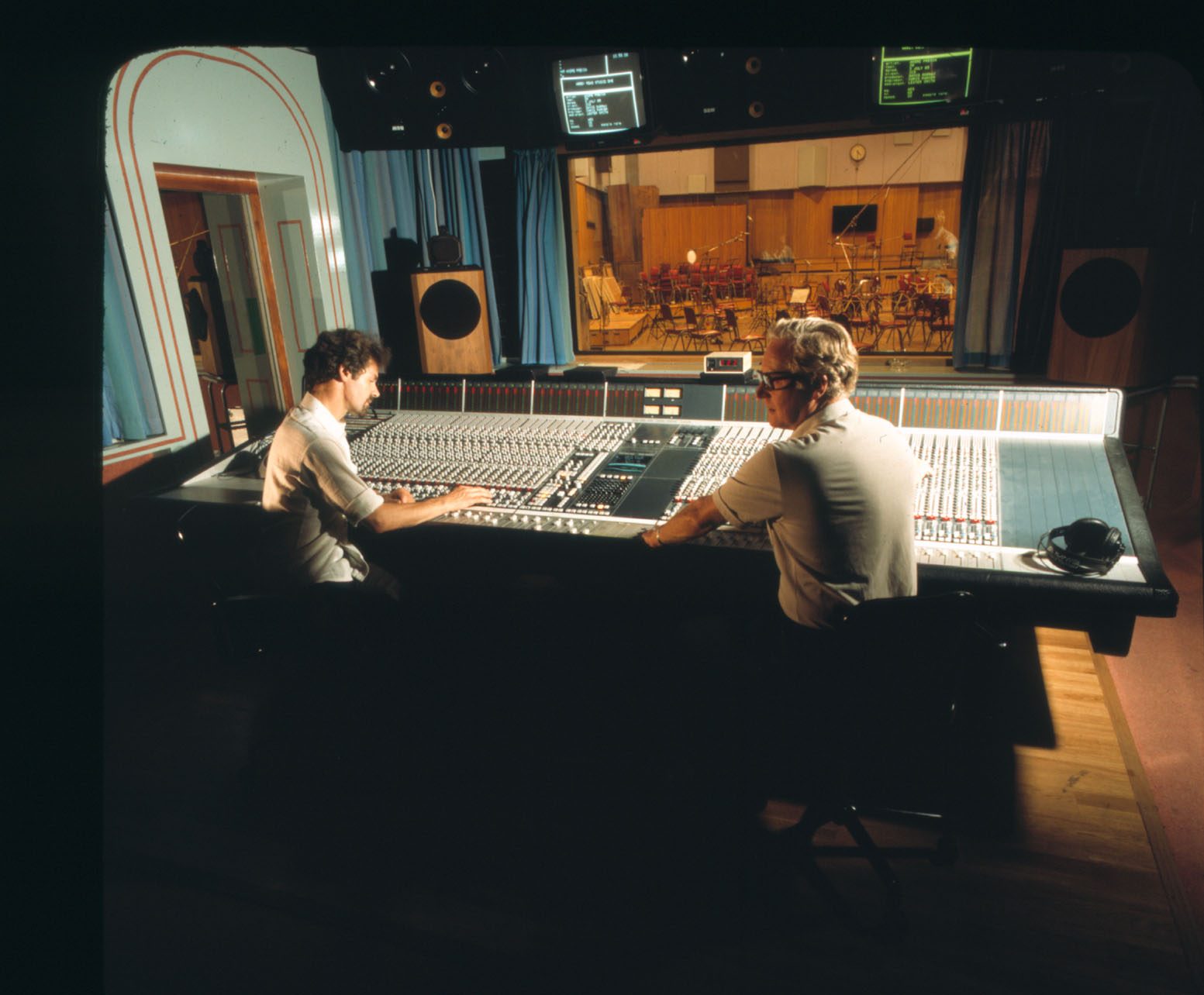 Lester Smith in the Studio One Control room with Chris Parker - 1985
I applied for the job and started work there on January 2nd 1970. My job was as a 'Calibration Engineer', checking and measuring the quality of the recordings from the 6 cutting rooms we had then (known as mastering rooms today) and replacing new points in the cutter heads and cutting 'pictures', the only way to check the frequency responses by reading the 'light band width' from each of 12 different frequencies, and all the general maintenance required for cutting vinyl albums and singles- 45's. At that time, we had 3 'Recording Studios' and 17 'Post Production' rooms consisting of editing, copying, cassette making, 78 rpm transfers, mixing and listening rooms.
These rooms were considered to be 'grey' areas because there were no dedicated technical engineers to look after them, so in 1972 the management decided to form the 'Technical Services Department'. I was given the choice of looking after the tape recorders (about 100) or the microphones (about 500).
I chose microphones as they represented a completely brand-new experience for me and there were no books or internet nor anyone to learn from. There were 2 more engineers to look after the EMI recording desks and one boss over us, 5 in all. As time went on in 1980 the chap who replaced me looking after the cutting rooms now became head of Post Production and I was asked to do that job as well as the microphones.
Lester's 50th Anniversary Celebration in Studio Two
In 1975 the studios invested in a new, non-EMI recording desk – the NEVE Console with 36 main and 24 monitor channels – my responsibility! We were using Dolby noise reduction modules on every recording and replay channel - my responsibility! EMI built one of the first Digital Recording Systems ready for use in 1980 - my responsibility!
A few years later we invested in JVC and SONY Umatic recording and playback machines – yes, my responsibility again! As time marches on (as always) some of those devices have been and gone but the microphone stock has grown to over 800 and I look after all of those, plus most of the vintage outboard equipment and of course the cutting rooms now down to 3 but with one new room mostly for half speed cutting where I help out if required."
Watch our interview with Lester below to hear about some of his fondest memories of Abbey Road Studios and why his interest in the technology used within its walls has never faded.