We're excited to be able to share our new psychedelic Vintage Logo collection with the world, which is available now exclusively from the Abbey Road Shop.
The range is based on an original hand-drawn black and white design by ex-studio designer and special projects manager Alan Brown who – drawing on his interests in calligraphy and lettering - was tasked with designing a new logo for Abbey Road while working at the studios in the 1960s and 1970s.
The Vintage Logo collection includes an original 100% black cotton T-shirt in all sizes as well as drinks coasters, a vintage mouse mat and various magnets and badges.
During his time in the role Alan was also responsible for redesigning the interior of Studio Three as well as installing his spiral artworks and murals in various locations around the studios.

"Ken [ex-Studios Manager] asked me to formulate a new logo embodying the words Abbey Road within it and so I set about preparing a sequence of designs. Being before the availability of computer aided design, it was a hands-on task involving pen and ink and paper, compasses and brushes. I have no record of the progressive stages involved, but I remember it taking me thirteen attempts to arrive at a design that Ken finally liked and approved. Despite having a sixties' feel about it, it felt right for the time with its spiral form and concentric rings, analogous to record grooves and rills."
– Alan Brown
Thanks to Alan and his photo collection we were able to get hold of a series of images of these installations in situ at Abbey Road, some of which you can see for the first time ever below.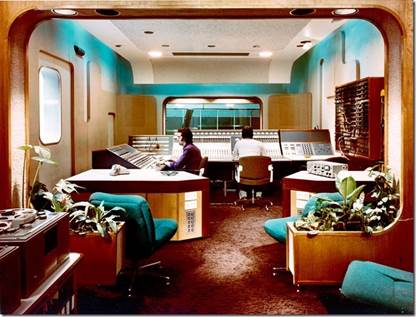 Studio 3 Control Room, mid-seventies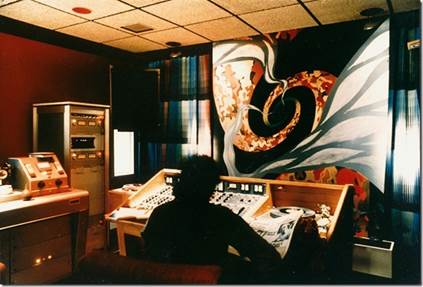 Spiral mural in Cutting Room 24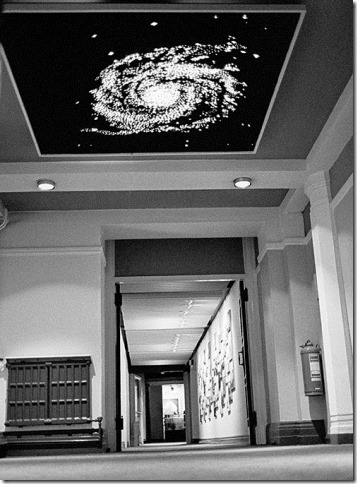 The Whirlpool Galaxy display in situ on the landing of the main staircase. Built by Peter Mew, Graham Kirkby, Brian Gibson and Brian Marrett. Photo credit: Brian Gibson.
Have a browse of the complete Vintage Logo range now at shop.abbeyroad.com